How To Make A Valentines Day Wreath With Pinecones
Learn how to make a Valentines Day wreath with pinecones. This is perfect way to bring natural elements into your home.

How To Make A Valentines Day Wreath With Pinecones
So for the Valentine's Day is approaching soon. I choose to take some natural elements such as pinecones to create a pretty heart. What better way to show my loved ones at home than with my favorite natural treasure the pinecone.
Material Needed For Valentines Day Wreath
Cardboard( You can cut it out or use a wood form found at your local craft store or amazon.
Scissors
Glue Gun
Pinecones (Pick them from your back yard or purchase them at Amazon.
Garden Clipper
Wire
How To Make The Pinecone Wreath
Step 1: Take a piece of cardboard and draw a shape of a heart any size you want, I did mine 32 inches around. With scissors cut the valentine out.
Step 2: Use gloves when handling the pinecones. They can be prickly. with the garden clipper cut the pinecone in half. This will make the pinecone easier to glue flat on the cardboard surface. Once you have all of them cut in half, glue them flat along the valentine shape.
Step 3: Fill the center with pinecones of any different sizes. You can stack them on top of each other to fill the gaps where the cardboard shows.
Step 4: When you are done filling up the valentine wreath.Make two small holes in the back of valentine one on each end and string the wire through the holes to create a piece of wire for hanging. Make sure that you tie the length of wire short and taut.
Now your pinecone Valentine wreath is ready to be hung. Add it on your door or a wall.
If you don't have pinecones in your area, you can shop here at Amazon
For Similar Posts:
How To Make a Pinecone Wreath in 5 Easy Steps
Pine This For Later:
Don't forget to stop by and visit the blog hop for more Valentine's Crafts.
I have gathered some favorite bloggers (yours and mine!) to bring you lots of Valentine's Day Inspiration. With all these amazing ideas you are bound to walk away with tons of ideas!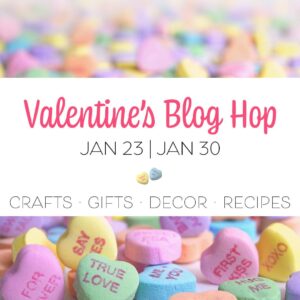 Valentine's Blog Hop
Don't miss the rest of the inspiration at the bottom of this post!
    Next on the tour is my friend Kippi from Kippi at Home  I love the way she bakes the most delicious cupcakes to drool over. Be sure to check it out along with all the other amazing bloggers below!        

Kippi at Home  // Feet Under My Table  // Tribe of Burton  // Zucchini Sisters
♥ ♥ ♥ ♥ ♥ ♥ ♥ ♥ ♥ ♥ ♥ ♥

Olivia O'Hern  // Decorate and More with Tip  // The House on Silverado  // My Family Thyme
♥ ♥ ♥ ♥ ♥ ♥ ♥ ♥ ♥ ♥ ♥ ♥

Chas' Crazy Creations  // From Farmhouse to Florida  // Simple Nature Decor