Refresh Your Laundry Room By Adding A Stylish Faucet
There are so many ways to change up your laundry room. So I thought what better way than Refresh Your Laundry Room By Adding A Stylish Faucet
It feels like I will never get settled into a home. This is the fourth home I have built-in ten years, and this time it's for real, and it's my last one. Construction has finally completed, and I am in the stages of designing each room, using mood boards to keep me organized. So I decided to refresh the laundry room by adding a stylish faucet.
 For my laundry room area, I am excited to collaborate with eFaucets for a stylish faucet. In the past, picking out a laundry room faucet usually meant a plain and not-so-exciting faucet. Fortunately, things have changed and there are lots more stylish faucets that can jazz up your laundry room area. Now, don't get me wrong; I not saying to buy a high-end faucet for this space. Stylish can still be budget-friendly.
eFaucets has affordable prices on high-quality kitchen and bath fixtures from the industry's top manufacturers. I chose the Kingston Brass single handle pull down spray faucet. It has one of those elegant gooseneck-shaped spouts that hangs over the sink. This particular faucet is very popular in the kitchen but can definitely take center stage in the laundry room. Since my laundry room is part of my kitchen, I designed it extra special so that it resembles a space that's more fun instead of just functional.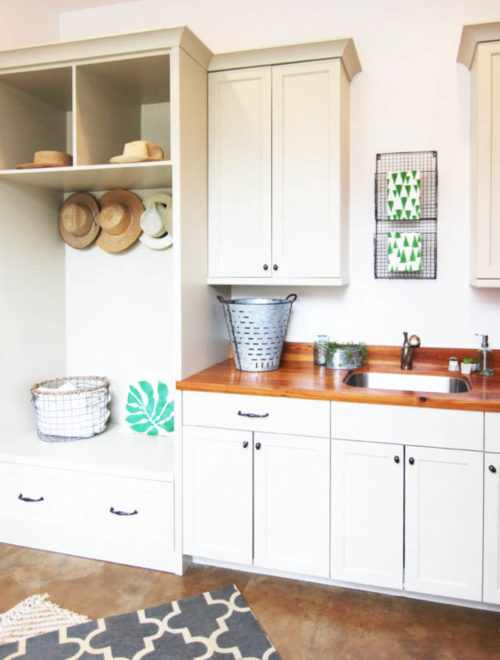 Kingston Brass comes in many finishes. I am in love with the gold finish. It adds brilliance to any kitchen. As you can see in all these pretty photos, the gooseneck-shape spout does create a great look. I am so excited about my faucet choice for my laundry area!
I would like to thank efaucet for collaborating with me on this post. This post contains some affiliate links.
Pin for future reference.
For more kitchen ideas check out picking out the perfect kitchen lighting.
I hope you enjoyed this post on Refresh Your Laundry Room By Adding A Stylish Faucet