My Coastal Home Exterior Finishes
From turquoise to leafy green shutters make a big statement for coastal homes. Front doors are also a focus point with lots of glass. When I was designing my coastal home exterior finishes I wanted something that was a mixture of natural elements and had color. There are more natural elements like tabby walkway which are part of the exterior hardscapes of the home and tabby chimney. A metal roof create that coastal charm you see in many homes in coastal carolina.
I am really excited with the design of my new home. It's very unique from anything that I have lived in before. The exterior is reminiscing of Caribbean style home.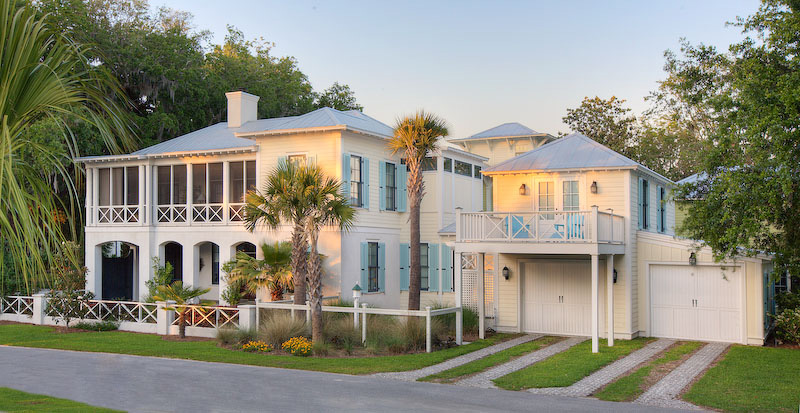 Photo: WaterMark Homes
Architectural Details
The architectural detail creates a home its style. Here the roof line totally changes from a traditional cottage style home to roof line that has peaks which create that Caribbean style. The top part of the house has wood planks and the lower part of the home is stucco, this home in pic above is the side view and very similar to my home except the garage is in a different location.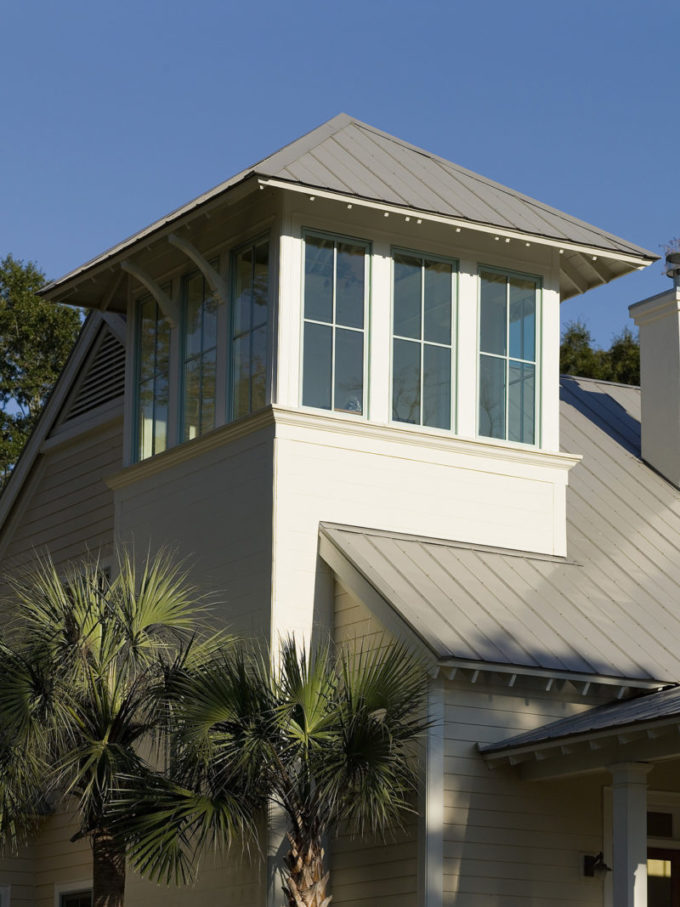 Photo: WaterMark Homes 
Paint Choices
Coastal exterior paint colors are bright, vibrant and popular on the coast. I looked at many beach home paint colors and saw that whites was the most dominant on the coast. When I was picking the exterior paint color I was torn between a sand to white color.  All this inspired me to pick Charleston white with a pretty blue shutter color. The exterior of the windows are a dark gray.
This home is on a corner lot and the front porch faces the side street and the other porch which leads to the master bedroom suite faces the main street. The whole front yard is a courtyard with a low stucco wall for privacy.
The back side of the homes has a one car garage and car port. Instead of having a two car garage we created a small separate building that will be a exercise space, equipped with bike, elliptical and stretching mat with an outdoor shower. My health is very important to me since we are far from a gym this is the next best thing and it was affordable.
Hope you enjoyed the first phase of the home. Windows, doors and plumbing have been installed. Will keep you updated on next phase For more of my new home building here is the laundry room ideas.